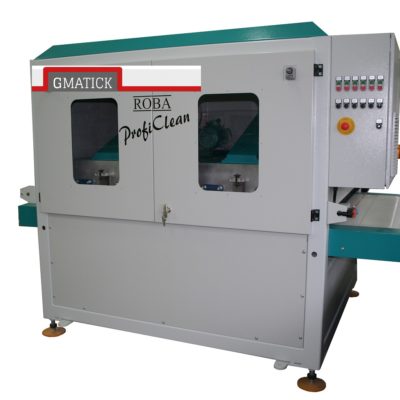 Operation areas
Backside cleaning of thermo foiled doors
Cleaning of laminated furniture panels
The Roba Profi Clean as through feed solution guarantees high productivity with best cleaning results.
Advantages of the Roba Profi Clean principle:
Optimized cleaning from dust and glue residues
Optimal rounding of sharp edges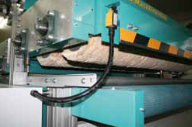 Double brush aggregate work clock- and counter-clockwise, equipped with special cotton brushes for secure cleaning.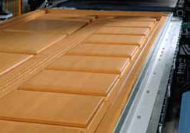 The Roba Profi Clean is suitable for cleaning of all kind of laminated furniture parts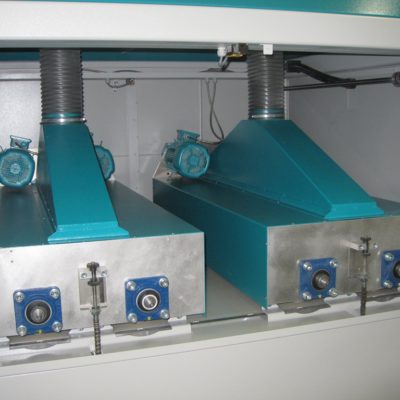 Roba Profi Clean equipped with two double brush cleaning aggregates
Cleaning method
The Roba Profi Clean machine line guarantees as a through feed solution high productivity. As a stand-alone solution for large quantities or directly behind the turnover/backside trimming equipment of a thermofoiling line. The only solution that is able to feed a complete batch of doors coming out of a membrane press. During this operation the laminated fronts get cleaned from glue residues and simultaneously all four edges are slightly rounded without the risk of delamination. Therefore the parts do not require any further processing steps and can be forwarded directly to the packaging. This is ensured by two or four clockwise and counterclockwise working cleaning drums, which are equipped with special cotton brushes. Further on this machine is also able to show its high capability in the cleaning of all other laminated furniture parts.
Roba Profi Clean cleaning machine for laminated surfaces, consisting of:
1 pc.:   Stable base frame for mounting the sanding units in encapsulated version.
1 pc.:   Conveyor belt with 1300mm working width, with drive and tensioning station in solid construction.
Feed electronically infinitely variable from 4 – 15 m/min (13 – 49ft/min), 0,55 KW
2 pc.:   Double brush cleaning unit for top working in two directions:
1st drum clockwise rotation, 2nd drum counter clockwise rotation
Cleaning brush diameter: approx. 250mm (9,8")
Number of segments: approx. 84 pc./drum
Brush width: 1320 mm (51,2")
Special cotton brushes for best cleaning results.
Drive: 3,0 KW each gearbox i=1:2
electronically infinitely variable from 200 -700 rpm
Linear-guided, workpiece thicknesses adjustable
with spindle from 5-80 mm (0,2-3,15").
Manually adjustable using digital counter
Extraction hood diameter: 160 mm  (6,3")
1 pc.:   Cleaning unit with blower system at machine exit
2 pc.:   Top pressure system with3 pieces rubberized pressure roller at entrance, exit and centre of double brush unit.
Machine data:
Machine weight: approx. 1800 kg
Machine length: approx. 2520 mm (99")
Machine width: approx. 1940 mm (76")
Machine height: approx. 2050 mm (81")
Working height: 900 + / – 50 mm  (35,4")
Working width: 1300 mm  (51,2")
Input power: 13 KW
Electrical equipment: central control and switchgear cabinet IB54 protected as console version.
Operation side on the left in transportation direction.
Operational voltage EU:230-400V /3PH/N 50Hz.
Electrical components:
The electrical equipment of cabinet components will be done according to UL/CSA/CUS standards. All electrical devices of the plant are UL/CSA/CUS approved. The high standards used for manufacturing the plant will comply with CE standards. Delivery will be done with EU normed wiring diagrams. Operating voltage: 3-phase 460-480V, 60Hz
Permissible mains types: All TT systems, TN systems or systems with grounded star point without additional measures is permitted. Operating at IT systems is not allowed and will destroy electrical components.
There is no UL/CSA/CUS certification sticker provided with the machine.
Inverter: Schneider Electric
Gearbox: Getriebebau Nord
Displays and controls: Klöckner Möller
Machine CE certification
Machine colour: RAL 7035
Safety cover colour: RAL 5018
Option: 1 pc.: Motorized height positioning per unit