For fast and easy production of 3D furniture doors
The Gmatick pin replaces the conventional distance plates (JIG), thereby you save a lot of production time because the manufacturing, storage and search of templates is completely eliminated. The new Gmatick PIN is characterized by its robust and very good quality. The PIN is available in 18mm guarantees absolute safe production process. On special request, we offer also other sizes of the pin height. With these pins you replace also the panels in the corners what you normally use as a blocker. So you're sure that no corner flags (nose) form in the corners of the furniture doors.
Advantages:
Can be installed in every membrane press.
Because the pins are provided freely in all directions it is guaranteed freedom of any door sizes
Because all vacuum holes are free and not closed from the traditional templates, the vacuum power is 1/3 higher such as on conventional presses. Better foil-forming is the result.
Saving of production time because missing templates are now history.
Because the old templates are no anymore in use, you don't bring dirt particles in the press chamber and or press table, thus reduced the waste doors in you production.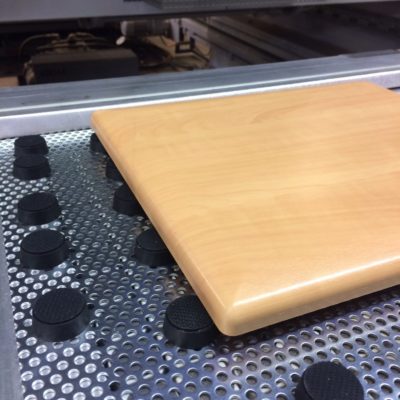 fast and efficient at the membrane press